First Online Tech Talk of 2021
Public speaking is not for everyone. It is not so typical for a Software Engineer or Developer like me neither. However, I dare speak from the heart of my experiences. It helps in defeating the stage fright of being the center of public attention. I have been grabbing talk opportunities that comes my way. Especially if it is something that is making a difference and are helping others.
Recently, I had another opportunity to do my first public tech talk of the year at Azure User Group Manila. A live meetup event during my lunch break or evening time in the Philippines. I shared some of my technical knowledge about the Azure Virtual Machines as an IaaS cloud computing solution.
The Meetup Event
Even though Azure Virtual Machine cloud service is a huge topic to discuss for an hour Meetup session, it went well. It was an interactive live Meetup which was broadcasted live in YouTube. We had Q&A at the end of the session. The audience (mostly developers in the Philippines) had a chance to answer a few Azure-VM related questions and won some useful freebies!
In collaboration with my friend and fellow "kababayan" (Filipino word for fellow countrymen or women from the Philippines) , Marilag Dimatulag, it was a successful new year kick-off tech meetup event. In spite of the things going on around us and the indefinite Covid-19 pandemic the world is facing right now.
It can be challenging for many of us to be away from families, friends, colleagues, remote working and social distancing. Therefore, I am thankful that we have our technology today that is keeping us together remotely.
Online meetups and meetings are great ways to connect and collaborate with others these days. I hope that the members of the Azure user group in Manila have learned something from my talk this week. And that they could use the knowledge as stepping stones in learning more, do great in their jobs they love and even upgrading their technical skills in developing modern technologies in Microsoft Azure cloud platform.
Azure User Group Manila – The Story and The Community Leader
Azure User Group Manila in the Philippines started its first MeetUp in January 2018, which was initiated and led by Marilag. Currently, the user group have more than 1,000 members on MeetUp. The group have social channels in YouTube, Twitter and Facebook. The leadership and dedication of Marilag are the key factors that made the AZUGMNL user group still active until today.
"I would love to help open up spaces where developers can come and feel a sense of connection, so we can stay motivated to build even during difficult times. And I'm also hoping to bring that feeling all the way across the planet, back to my hometown, where I can inspire young developers, like I once was, to be part of the global effort in using technology to improve lives"

Marilag Dimatulac (From Manila To Copenhagen: Marilag's Mission To Upskill Tech Talent)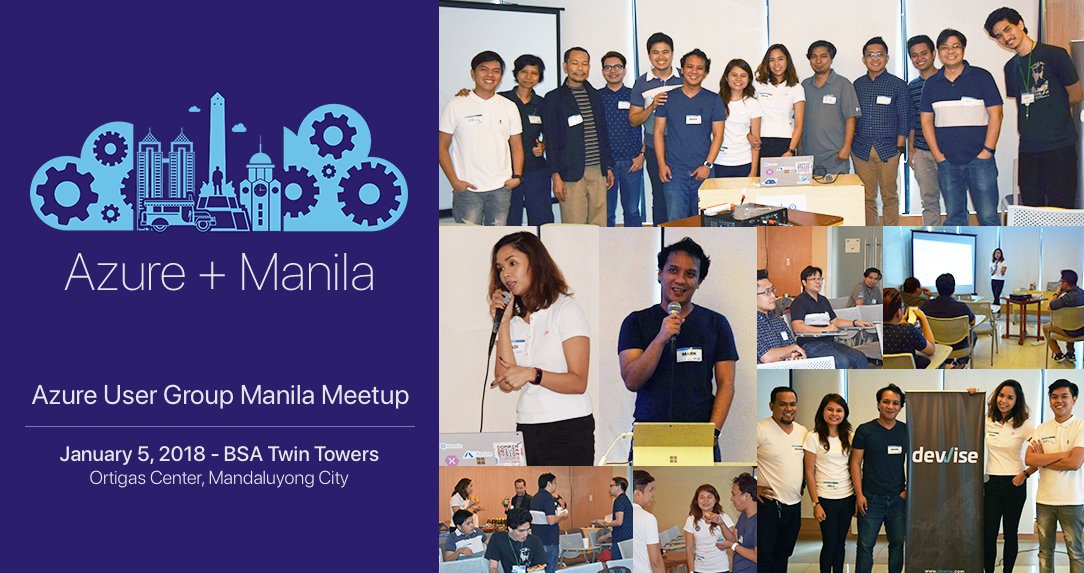 Marilag – A Filipina Tech Entrepreneur, Cloud Architect, Co-Founder of Dewise
Learn more about Marilag's story to tech, her visions, her role as a Cloud Architect and Co-Founder of Dewise in Denmark.
How We Connected
I did not know Marilag until I heard about her in Swetugg tech conference event in Sweden. I missed attending the event in Stockholm. However, I found out that there were two great Filipinas who talked at the conference. One of them was Marilag and another Filipina, Adrienne Tacke, Senior Developer Advocate at MongoDB.
Finding about other fellow Filipinas in tech who are making a difference in same industry as I am, made me curious and excited to reach out to each of them. We got connected and we had our first tech talks together along with Angelica Lie Quebec, an IoT Support Coordinator at Thinxtra. We talked and shared about our favorite Azure Technologies like Azure DevOps, Azure IoT, Azure Service Bus and Azure CosmosDB at Azure User Group Manila last year (July 2020).
Collaboration in Tech – A Programmer's Point of View
Look how trying to connect and reaching out have brought Filipinas in tech together in an Azure event! New contacts, new friends – new opportunities to learn more from each other's experience.
Thanks to AZUGMNL, Marilag, Adrienne, Angelica and all other Filipino developer kababayans who are tech advocates collaborating together. A great initiative in helping developers in the Philippines and internationally, to unite for one of purpose. I hope that we can all unite, use our tech skills to reach out to those who needs it the most in our home country, the Philippines.
In Philippine culture, there is what we call the "Bayanihan" (pronounced as buy-uh-nee-hun) which means nation, town or community unites, work together and cooperate to achieve a particular goal. This culture makes me proud to be a Filipina, even though I am already based in Sweden and carry dual citizenships (Filipino and Swedish). When I see the spirit of "bayanihan" in online communities and companies, I get inspired to contribute what I am able to.
We need to break the barriers and help each other out in learning and growing in technical skills together! I am glad to be part of tech communities that aims to reach out and lift each other up. It makes me glad to see other software developers from different online communities – united and collaborating, especially in these modern times when competition is a norm.
My Tech Talk – Azure Virtual Machines
During the event, I shared some basic concepts Azure Virtual Machine. These concepts include understanding the basics how virtualization and networking works and what is really a virtual machine. The cloud computing provider like Microsoft Azure itself uses virtualization technology. This means that every resources that we have in our cloud development is a virtualization technology. Cloud Computing concepts, Azure Virtual Machine as an Azure Compute Service (IaaS), and different ways of provisioning it in the cloud are interesting topics. There a lot more to learn and share about developing Compute Solutions in Microsoft Azure! It was a good experience to able to share a technical overview of it to others.
Did you miss the live event where I talked about Azure Viritual Machines? Check it out below or via Azure User Group Manila's YouTube channel.
Azure Virtual Machines by Jonah Andersson
Recommended Learning for Azure Virtual Machines
If you want to learn more about developing Virtual Machines in Azure, I recommend this Microsoft Learn module Introduction to Azure Virtual Machines and Azure's Documentation.
Check out some Pluralsight and LinkedIn Learning courses too.
---
About Author: Jonah Andersson is a Filipina-Swedish Software Developer who codes fullstack system development in C# .NET/NET Core. She currently works as a Software Developer Consultant at Forefront Consulting in Sweden. Jonah is passionate about learning, developing and sharing knowledge about Microsoft Azure cloud technologies. A woman who code advocating gender equality in the tech industry through mentorship and by being role model.
---
Check out Jonah's other recent posts